The fulfillment of corporate social responsibility
I. responsibility of enterprises to increase agricultural income:
The company's vision is to "the pursuit of excellence, respected enterprises", the company's goal is to do "domestic food ingredients expert", to achieve this vision, the company "corporate social responsibility into the enterprise" business philosophy and corporate culture, through in the daily production, management, all aspects of the management work, do business with social responsibility.
The company's poverty alleviation policy is mainly carried out by purchasing rice, providing employment, giving away cows and other means to drive farmers to increase their income and become rich. In 2016, 28,200 tons of morning rice and broken rice were purchased with the amount of 68.3 million yuan. The annual salary and welfare of the company is 15.64889 million yuan, and the company employs 325 farmers with an average salary of 46,547 yuan per year. In 2017, 32,800 tons of morning rice and broken rice were purchased with an amount of 79.2 million yuan. The annual salary and welfare of the company is 16.2779 million yuan, and the company employs 336 farmers with an average salary of 48,446 yuan per year. The company also directly assisted dujia villagers in hehu township of fengcheng city with 50,000 yuan (donated cows) to carry out targeted poverty alleviation.

Ii. Responsibility for ensuring product quality and safety:
The company takes "industry to serve the country, do conscience food" as its responsibility, intensive cultivation, and actively carry out the construction of food safety management system. The company has passed ISO 22000\BRC food safety system certification, halal food management system certification, including rice protein powder through the United States/the European Union organic processing certification. From 2016 to 2018, all the products tested were qualified, and there were no quality and safety accidents, so as to comprehensively guarantee food safety.
Iii. Responsibility for employee health and welfare:
Company values "your trust, my responsibility". One is to build a good staff to staff generous wages and benefits, do not live up to the trust of employees; Second, return the government, increase employment, increase tax revenue. Third, return bank trust; Fourth, return shareholder trust. The company has established the occupational health management system, through the workshop environment transformation, installation of air conditioning, equipped with protective equipment, annual health check, care for workers, to ensure health.
The company provides employees with social insurance, industrial injury insurance, and other sports centers such as senior apartments and swimming pools. Food and accommodation are basically free, and generous benefits are provided. The monthly salary is paid on time, and there is never any phenomenon of wage arrears, which all reflect the warmth of hengding family.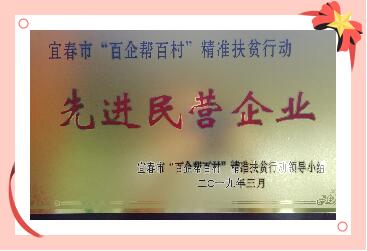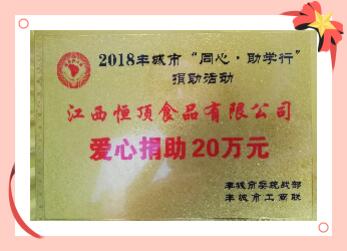 Iv. Responsibility to protect the environment
The company is a demonstration enterprise of scientific and technological innovation of energy conservation and emission reduction. To build a resource-saving enterprise is not only the fundamental requirement for the enterprise to change its growth mode and enhance its core competitiveness, but also the obligatory social responsibility of the enterprise. For this reason, the company invests millions of yuan of research and development capital every year for the development of new technology of energy saving and emission reduction, promoting the technological innovation of the enterprise, greatly reducing the production cost of the enterprise, improving the production efficiency, and making a contribution to the creation of an energy-saving society.
The company is committed to improving economic benefits at the same time, constantly increase the investment in environmental protection, and strive to build environmentally friendly enterprises. In recent years, we have increased the greening of production areas and built garden-style factories to protect the ecological environment. The sewage treatment system was established and improved with an investment of 5 million yuan, and online monitoring was installed to ensure that the discharge was up to standard. No environmental protection accidents occurred during 2016-2018.

V. responsibilities of participating in charity:
The company pays great attention to the schooling problems of poor students, and organizes employees to donate money and materials for poor students for many times, so that children from poor families can return to school as soon as possible and finish their studies. Various forms of pair-building and poverty alleviation activities have enhanced employees' awareness of social responsibility and enhanced the company's social image.
It has donated 50,000 yuan to primary schools and aid poor college students, 60,000 yuan to shangzhuang, 60,000 yuan to gaoan sun nursing home, 50,000 yuan to shangzhuang afforestation, 200,000 yuan to support the construction of new socialist countryside in honggang, and 50,000 yuan to dujia villagers in hehu township of fengcheng (as a gift of cows). Successively for the difficult worker (rao xizhen, liu caihua, etc.) donates 80,000 yuan, one party has difficulty eight plus supports.
The production and operation of the company abide by the law, pay taxes according to law, integrity management. There has never been any delinquent tax payment, delinquent bank loans and other illegal operations, and there is no record of corporate bankruptcy, social image and good faith.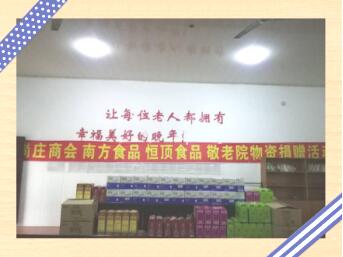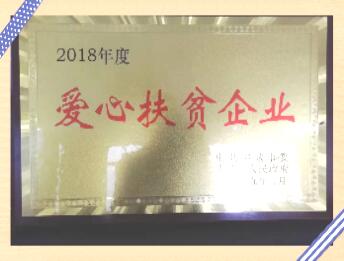 In short, the company operating in more than 12 years, the small factory by 46 people become good leading enterprises, with more than 360 employees from A 1000 much square metre only rudimentary plant now covers an area of 202 mu, building area of 60000 square meters of garden-like plant, from the sales of less than one million yuan to 320 million yuan now, for many years on the tax advanced units, the company obtained A grade "contracts and keep promise" unit, gradually become A respected company, to acquire all the fame and fortune, cannot leave the company to the belief of corporate social responsibility and positive real performance.